College of Letters, Arts & Sciences
Home to studies in the Humanities, Natural Sciences, and Social Sciences
Positioning our Graduates for Success in their Professional and Personal Lives
Our faculty teach you to think, to create, to communicate --skills vital to today's employers and graduate and professional schools. Outside the classroom, opportunities abound for internships and one-on-one research with faculty.
As the largest college on campus, you can choose bachelor degrees and minors in one (or more!) of our 21 Departments and Programs We offer five accelerated bachelor / master degrees, nine master's degrees, and three Ph.D. degrees, as well as pre-medical and pre-law programs.
Dear LAS Community,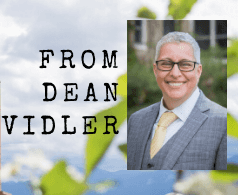 This year, LAS students, faculty and staff have risen to the occasion and given their all. LAS is a proud family and we commend you for your hard work. We are especially thrilled for our graduates' many accomplishments and are excited to celebrate together.
I invite you to click on the links above and read about our many staff, faculty and student awardees.
Here's wishing our graduates success in the future endeavors. We can't wait to see what you accomplish!
Good luck to all those within our LAS community. I look forward to your many successes!
Go Mountain Lions!
L. Lynn Vidler, Ph.D. (they/them/theirs)
Professor and Dean, College of Letters, Arts & Sciences
University of Colorado Colorado Springs