College of Letters, Arts & Sciences
Home to studies in the Humanities, Natural Sciences, and Social Sciences
Positioning our Graduates for Success in their Professional and Personal Lives
Our faculty teach you to think, to create, to communicate --skills vital to today's employers and graduate and professional schools. Outside the classroom, opportunities abound for internships and one-on-one research with faculty.
As the largest college on campus, you can choose bachelor degrees and minors in one (or more!) of our 21 Departments and Programs We offer five accelerated bachelor / master degrees, nine master's degrees, and three Ph.D. degrees, as well as pre-medical and pre-law programs.
Dear LAS Community,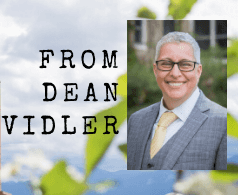 As we ring in 2022 and begin our spring term, I am filled with pride.
I am proud that the education our students receive prepares them well for a complex future. I am proud that the 400+ December graduates from LAS will leverage the grit and perseverance they learned during the pandemic for the good of humanity and the world at large.
I am proud of our 50+ staff who are dedicated to supporting the LAS teaching and research missions and who care for our students with love and kindness.
I am proud to be a part of LAS—a community steeped in the tradition of the liberal arts and sciences. A liberal-arts foundation is the ideal complement to a changing world as it teaches us to adapt and work toward a better tomorrow. Let's leverage that capacity to adapt to our new environment.
We are, as Stan McChrystal puts it, a "Team of Teams," determined to work together to improve our organization. I am proud and optimistic for our future as we begin another semester. I invite you to join me in working towards that future.
Good luck to all those within our LAS community. I look forward to your many successes!
Go Mountain Lions!
L. Lynn Vidler, Ph.D. (they/them/theirs)
Professor and Dean, College of Letters, Arts & Sciences
University of Colorado Colorado Springs
Information
A Day in the Life of a Dean (July 14)
Dean Vidler just moved to Colorado from South Dakota! They were able to begin moving into their home, setting up their office, and getting acquainted with the other staff and faculty members of the college!
Te veo. Te escucho. Me importas. (July 10)
¡Hola a todos! ¡Bienvenidos a nuestro canal!
In the second piece of our ongoing introduction to our new Dean, hear Dean Vidler as they speak to the LAS community about the importance of strengthening our contributions to diversity, equality, and inclusion in our community.
LAS Welcomes New Dean (July 3)
Please join us in welcoming UCCS' College of Letters, Arts, and Sciences' new Dean: Dr. Lynn Vidler! Dean Vidler just moved to Colorado a few weeks ago, but they have been doing some amazing things at their previous schools! We can't wait to see what they bring to ours and how they get involved in our community!
Hello From Dean Vidler (June 30)
A hello message from the new Dean of the UCCS College of Letters, Arts and Sciences.
The Chronicle of Higher Education : Coping With Coronavirus. How faculty members can support students in traumatic times